Looking for a trusted kitchen commercial appliances Coppell service? Do you want your freezer fixed or a new stove installed? Take no risks by entrusting your needs to our company! We provide the right solutions whether you want oven repair, freezer check-up, or range installation. Our response is rapid and the prices are fair. What's more, we assign any & all services to the best local techs. So, what's there to think about? Is any kitchen commercial appliance service in Coppell, Texas, on the table? Give us a call now!
Your Coppell commercial appliances are fixed in no time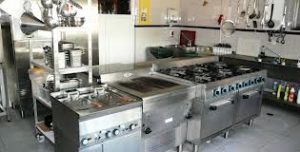 If you are in need of commercial appliance repair, don't fret to reach out to us. With us close by, your appliances are fixed correctly and in zero time. We realize that as a restaurant owner you hardly want to deal with a broken stove or oven. We are aware of all the risks of having a faulty fridge or freezer in the supermarket. But let nothing trouble you! By turning to us, you get any problems sorted out before you even know it. You only need to pick a convenient time for your appliance repair Coppell TX service.
Kitchen commercial appliance repairs offered fast, done well
If your commercial oven or fridge is out of order, you'd better turn to Expert Tech Appliance Repair Coppell. Fixing these appliances is not a job for amateurs. They are more complex than residential ones and thus even a minor repair is best left to a qualified appliance service technician. So, make contact with us ASAP! We provide the best specialists in the area. All of them are prompt, factory trained & fully equipped. Rest assured, they start and complete each given fridge, freezer or stove repair by the book.
You can count on us for any commercial appliance service
At all times you need stove or freezer repair, give us a ring. We are at the ready to send an expert Coppell appliance repair tech at the earliest. But that's not all! If you are in search of any other commercial kitchen appliances service, you can also turn to us. We assign field pros for various projects, big and small. From routine tune-up to a more complex installation, they handle all jobs with accuracy. So, don't hesitate! If you want to put your commercial appliances in Coppell into the best hands, call us.